April 2019 Update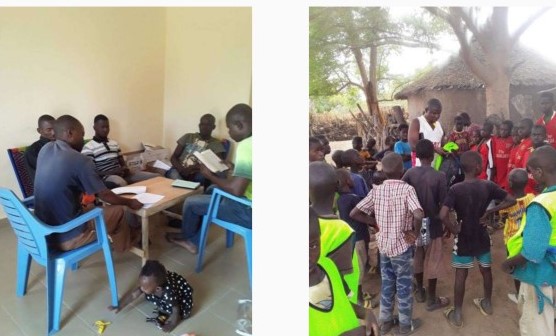 Dear ARA friends,

We want to share with you some exciting highlight about ARA from the past month!
Our new missionaries (6 families, 2 single men) have gotten settled into their new roles and are busy building relationships and getting involved in outreach activities. (Picture above is one of our new missionaries who is conducting a soccer ministry for children/youth. They do this weekly and before each game share a story from the Bible.)

Two of our new missionaries met a man on the bus ride from Senegal to Mali. They followed up with him, and he lives 100km from where they are staying now. They took a motorbike ride (5 hours each way) to visit this man after he invited them to his village. Over 10 Muslim adults met them to hear Bible stories and afterwards they played the Jesus film in the local dialect.

The next morning while still in the friend's village, our missionaries asked him what he thought about the presentations the night before. He told them he wanted to be a Christian! They prayed with him and led him to the Lord. They invited him to come to their home shortly after that for a few days so they could start discipling him. When he arrived to their home, he brought along 2 friends from his village that had attended the presentation. Those two friends after hearing more about the Bible and Jesus placed their faith in Jesus Christ. What an amazing story of God working! (Picture above is of those 3 men meeting with our 2 missionaries for Bible study.)

In the Gambia, one of our missionaries was asked to start a new Bible study by people in a nearby community who are interested in learning more about the Bible.
Prayer Requests
Pray for safety for our missionaries. Recently, 130 people were killed in Mali (not too far from where our team is located.)

Pray for God to open doors for people to hear the Gospel.

Pray for those that have accepted Christ to be discipled and that through the Bible studies started with these converts, local churches would be established.
If you don't already financially support ARA, would you pray about doing so? Due to financial constraints, one of our largest monthly donors is no longer able to support the ministry and we just sent out new families in February. As always, we are trusting God to provide for this ministry.

Thank you again for your prayers, support, and encouragement. We know that the work our African brothers and sisters are doing is not easy, but God is working in them and through them as we see people who have never heard the Gospel previously, now accepting Him as their Lord and Savior. Please continue to join us in praying for Christ's name to be proclaimed and accepted among the unreached.

Click here for PDF.